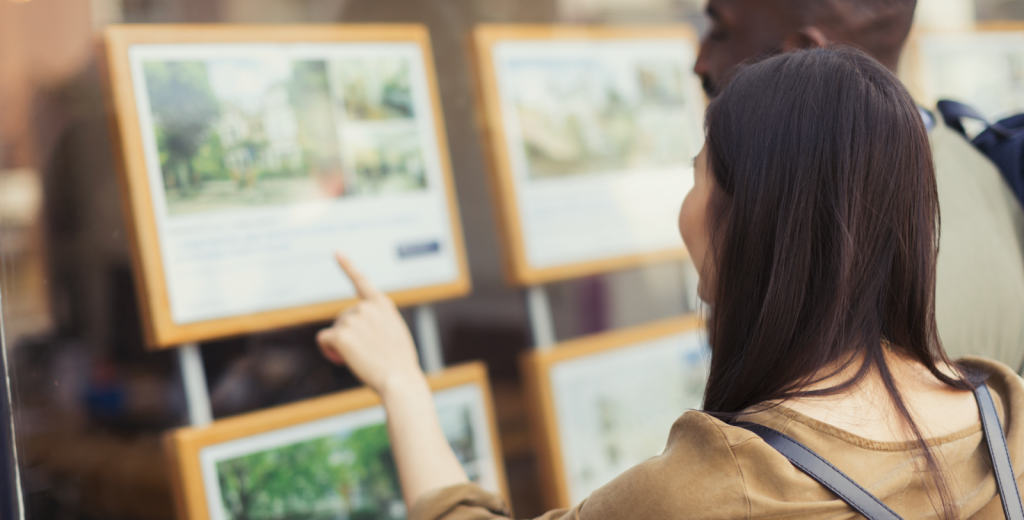 In this article:
Real estate flyers are an essential part of promoting properties, both in-person and digitally. Each real estate flyer template calls attention to different aspects of a listing to support your marketing strategy. For example, a property with a recently reduced listing price would benefit from a listing flyer that highlights the markdown more prominently than specific home details. No matter which template you use, flyers help real estate agents win business.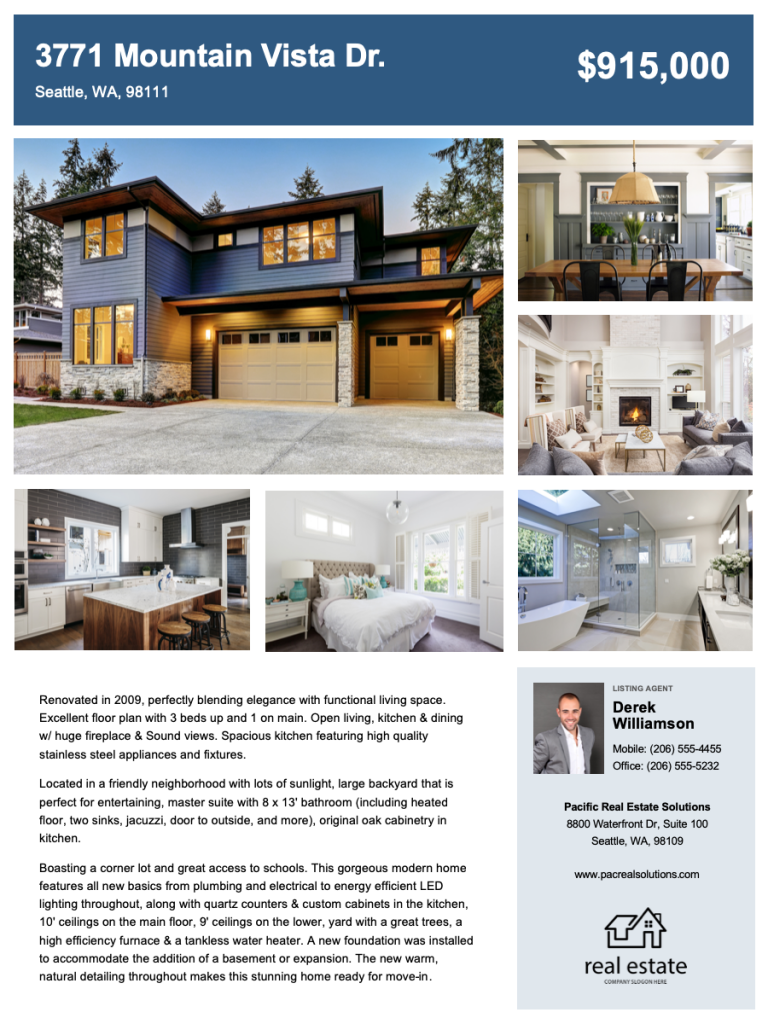 Do agents need real estate flyers?
Real estate agents aren't required to use listing flyers to market their properties successfully, but leading agents use flyers to remain top of mind with shoppers and even local home sellers.
There are three primary business strategies for using real estate flyers:
Increase exposure to your listings

. Attract more eyes to your current listings.

Build leads from active shoppers.

Capture early and mid-stage home shoppers who are just beginning their hunt but may not be ready to buy.

Stand out as a local expert.

Be visible as the go-to neighborhood professional to attract home sellers who are shopping for a local real estate agent. Homeowners

 think about selling for an average of

six months

before listing their homes for sale.1
How to use real estate flyers
Today's real estate agent has several ways to distribute listing flyers, depending on their business plan and marketing strategy.
Share real estate flyers on social media
For peak exposure, create a JPG or PDF of your listing flyer and upload it to the social media accounts you're most active on, like Facebook, Twitter and Instagram.
Distribute real estate flyers at open houses
Greet home shoppers with open-house flyers so they have something to remember you and your listing by after a long day of touring homes. Have plenty on hand: 53% of buyers find it extremely or highly important to attend an open house.2
"Consumers still value being able to snag a hard copy flyer of a property, particularly open house visitors," says Bret Calltharp, Zillow Group's industry outreach director. "Having flyers available for your open house not only provides consumers with more information to help keep your listing top of mind, but they also show potential sellers who might be visitors the quality of your marketing materials."
Attach listing flyers to your yard signs
Put real estate marketing flyers on display for passersby, home shoppers who are attracted by their Zillow app or those who are simply walking their dog around the neighborhood and might pass along your listing flyer to a friend or family member who's in the market for a home nearby.
"Buyers still like to drive around neighborhoods and visit potential properties, and having the self-serve flyers is a way to provide information to buyers who might not be ready to speak to an agent yet," Calltharp says." The desire to use these varies by market, but it's still pretty standard on most listings across the country."
Offer real estate flyers at a private tour
Leave listing flyers for home shoppers visiting with their agents. More than 3 in 4 buyers (79%) find it extremely or highly important to attend a private tour.3 You can improve the buyer's experience by sharing a professionally prepared listing flyer just for them.
Send real estate email flyers
Email real estate flyers to your network of buyers, agents who represent buyers in the area and anyone in your sphere of influence who can help spread the word about your listings.
Mail listing flyers directly to your target market
About 1 in 5 buyers (21%) uses a direct-mail newsletter, flyer or postcard to find a real estate agent.4 Although sending real estate mailers might seem like a dated practice, it's still an effective method. And it can be economical too, as color prints today cost 20-50 cents per printout.
What makes a great real estate flyer?
A great real estate flyer is eye catching, easy to read and provides details to entice a prospective buyer to learn more. Make your real estate marketing flyer stand out by including:
A highly legible font style like Verdana or Century Gothic, no smaller than 12 pt so shoppers can easily read the details

A brief listing description of no more than 200 words to keep buyers engaged

Two to four high-resolution (at least 300 pixels per inch) professional photos that promote the best features of the home

A bolded list price, since 83% of buyers find it extremely or very important to stay within their initial budget5

Bolded details of any major updates recently made — for example, a new roof, new windows, remodeled kitchen — to appeal to buyers who want a move-in ready home

A call to action so buyers can contact you — "text or call for more information" — with your social media handles and logo

A QR code to get buyers to visit your website for property updates
How to choose a real estate flyer design
Flyer designs are specific to the market, style of home and target shopper. Evaluate the home features worth highlighting for a listing, and then select the template that will most effectively market that home. Here are some ideas to help you choose the right real estate agent flyer.
Homes in attractive neighborhoods: If the listing is near popular amenities, choose a template that highlights them. More than half of all buyers (53%) find it highly important to be close to shopping, services and leisure activities.6
Homes in low-crime communities: Pick a template that includes bolded features for the local crime rate and unique neighborhood features such as gated access and neighborhood watch groups. Most buyers (82%) find it highly important that their neighborhood feels safe.7
Homes in top school districts: Choose a real estate flyer template that includes space for information on the school district, its GreatSchools score and how it compares with surrounding schools. Nearly half of all buyers (43%) find it extremely or very important to find a home in a preferred school district.8
Homes with short commutes: Pick a template with formatting for commute times to nearby business centers or business parks, or even public transit routes: Millennials and Gen Z buyers — who tend to gravitate to urban areas — place greater importance on close proximity to public transportation than older generations: 54% of urban buyers say being close to public transportation is very or extremely important in the home decision.9
Homes with private backyards: Choose an image-heavy format with a drone photo of the property's proximity to other homes: 67% of buyers find it extremely or very important to have a private outdoor space (e.g., patio, deck, yard).10
Luxury homes: Use image-forward templates for stunning homes with excellent views or ideal natural light.

Free real estate flyer templates
Choose from three downloadable real estate flyer templates for help designing a listing flyer. These PowerPoint templates are easy to customize and offer examples of real estate flyers for your next open house or marketing campaign.
Real estate flyer template #1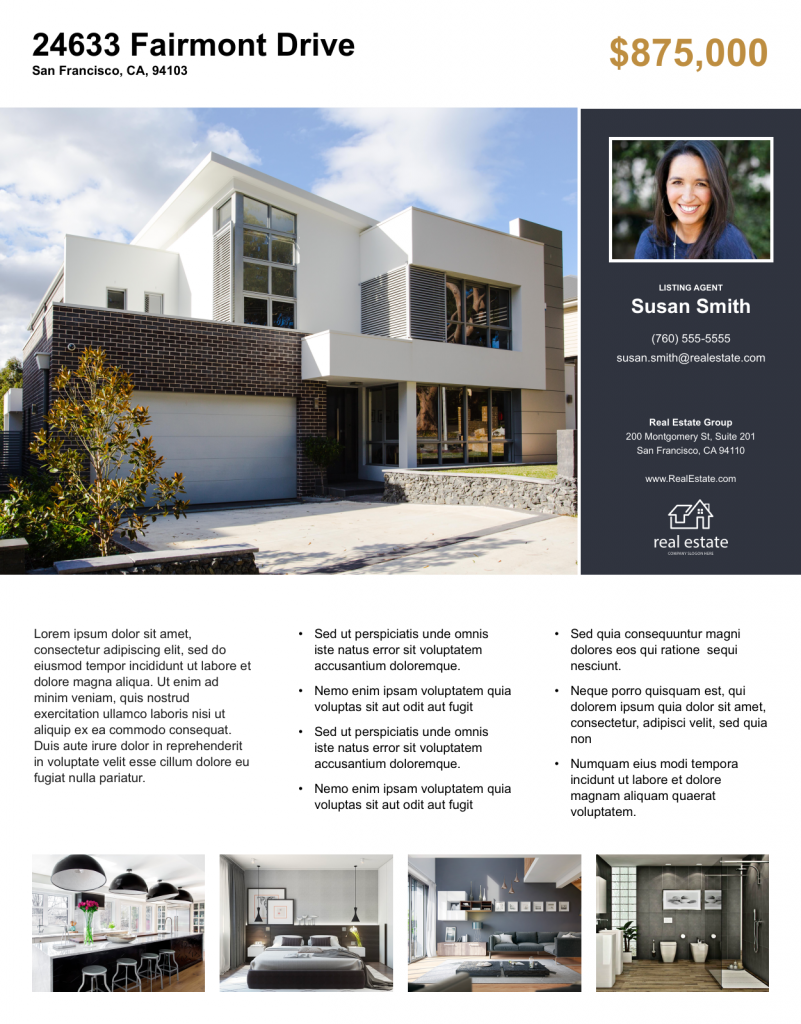 Marketing uses: This real estate flyer template offers plenty of space for home details, which makes it great for showcasing top school districts and smart-home capabilities.
Real estate flyer template #2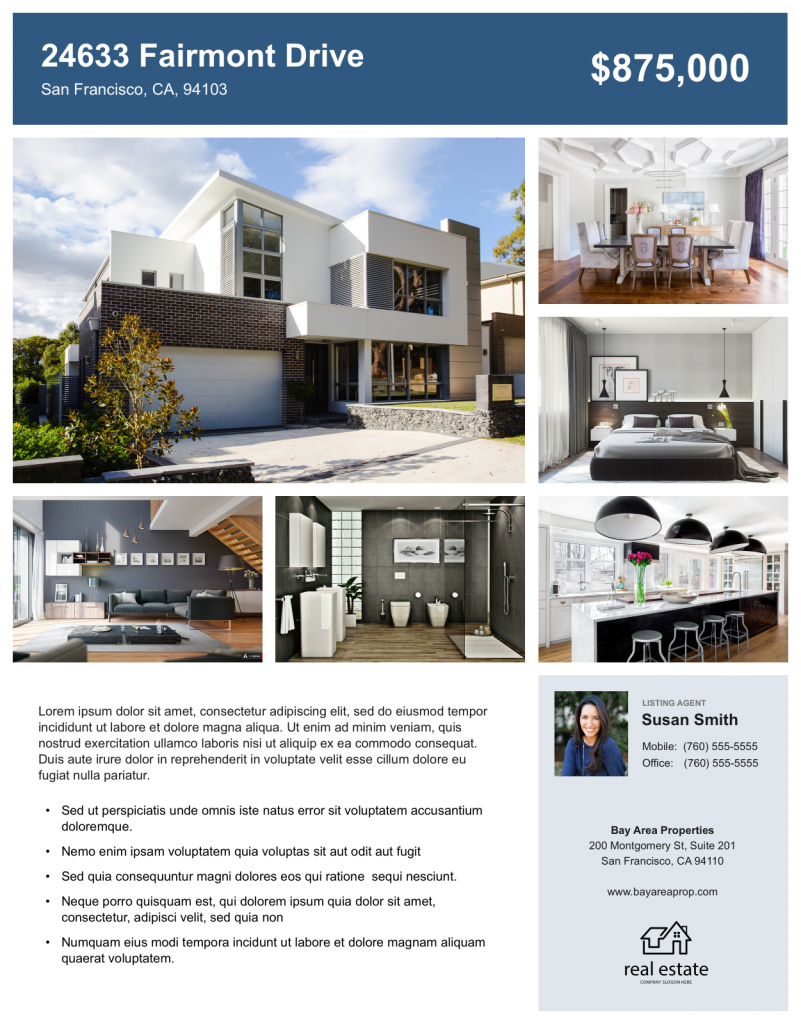 Marketing uses: This open-house flyer template places images at the forefront, making it perfect for marketing luxury homes, homes in attractive neighborhoods and homes with private backyards.
Real estate flyer template #3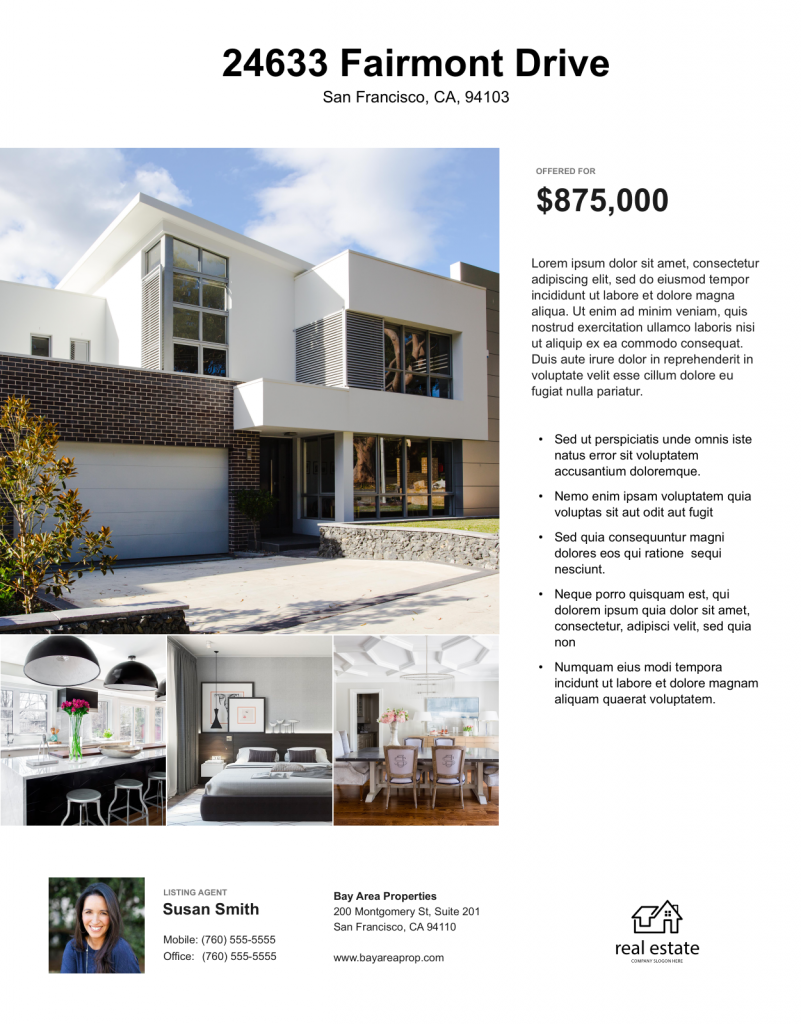 Marketing uses: This real estate flyer template provides space for highlighting commute times, unique neighborhood features, the local crime rate and other valuable home features specific to your farming area.
---
Sources:
1, 2, 3, 8, 9, 10. Zillow Group Consumer Housing Trends 2019 survey data
4. Zillow Group Consumer Housing Trends Report 2018
5, 6, 7. "Home Buyers: Key Facts & Figures," Zillow Group Consumer Housing Trends 2019